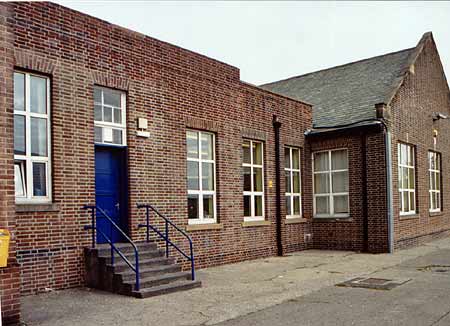 The eastern end of the school from the playgound (looking north-east).
The door is at the end of the short linking corridor that leads from the eastern end of the back corridor. To the right is what was once the school library.
The three windows to the right of the door are part of a classroom added in the 1954 rebuild (originally, the playground went back to the small corridor leading to the rooms on the right which then were the woodwork and metalwork rooms). The original shape of the building can just be seen in the photo where the bricks are a lighter colour.
When the school was first built, this door didn't exist. In its place was a window which was part of a changing room (the borrowed-light above the door shows part of the original window). In the 1956 rebuild the changing room was split into the linking corridor and a washroom to the left.