Life in Appleby
Unlike many other groups of evacuees around the country, the 147 Shields boys proved to be "remarkably free from sickness". This may have been as much to do with the fact that, in general, it was a positive experience for them as it was due to any underlying superiority in health. Winters were often severe, and more than once Appleby found itself cut off by snow - and the opportunities for going home were limited to school holidays. Most boys would return to Shields, risking the air raids, and some even cycled all the way, a distance of nearly 70 miles, but more often than not returning to Appleby by train.
Boys were billetted on their own or in groups, and possibly the largest billetting was at the Red House Guest House, a large 18th century sandstone building at the bottom of Boroughgate. In the first World War, it served as a hospital for wounded soldiers, and during the second World War, it housed essential war workers, including radar workers from the nearby Dunn Fell station. But it also housed several of the Shields evacuees.
The Red House was run by Mrs Mary Jane Robinson, and five boys joined her and her family and some of the war workers in the lower part of the house, while several of the masters were upstairs with the radar workers. The boys were from the lower 4th: Alan Padley, Ron Smith, Alan Stokoe and two others .. and the staff included Mr & Mrs Newby, Mr & Mrs Arnold Josephs and Frankie, their daughter, and "Pa" Petty and his family. For some reason, possibly due to a clash of personalities between Newby and Josephs, the Newbys moved out some time later to the Temperance Hotel, also in Boroughgate. It is also possible that Fred Grey stayed at the Red House.
In Battlebarrow, the road heading out of town to the north, Mabel Combe (nee Jones). Her elderly grand-parents, Mr & Mrs Thompson took in three boys - Stanley Walls and Geoffrey Taylor (lower 4th) and George Buzzard (3rd). Mary's aunt and uncle took in another 3rd former, Andrew Clunness. Stanley Walls recalls that Mabel's grandparents were not in the best of health and he was later moved to stay with Mrs Sissons ("Grandma") with a couple of other boys.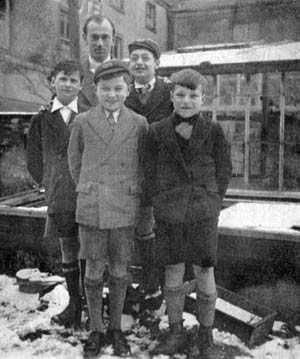 In Bongate, the road heading out to the south, Mrs JF Whitehead had two 3rd form boys, Donald Lawson (an only-child from South Shields, whose parents had a sweet shop) and Ronnie (whose mother came to visit on a number of occasions).
Back in Boroughgate, Mrs Anderson had taken in two boys, one of whom was Stephen Hall (lower 5th), and at the chemists, Mr & Mrs Nicholson took in Ron Hodgson and Billy Rees (both lower 4th). Ron recalls that, on arrival, he and three boys from the lower 4th (Billy Rees, Norman Ford and Russell Keddie) were put into a car and taken to the shopping centre in Boroughgate, where they were led into the Nicholson's. Since they were only looking to "foster" two, the selection was made on the toss of a coin - Ron and Billy won, and the other two were sent across the road to the draper's shop, and to Mr & Mrs Furniss, a somewhat "fuddy-duddy" and very religious couple. Norman Ford later went on to stay with the Clifford Family, in Holme St (just off Boroughgate, to the west).
The picture on the left shows Tom Nicholson, pharmacist, and son of the hosts with, from left to right - Ron Hodgson, Johnny Gunn, Freddy Peat and Billy Rees, all lower 4th. It's worth pointing out to those unfamiliar with the old school that in those days you joined the school at 11, but in the "3rd form". .
As part of the "Dig For Victory" movement, Arnold Josephs and some of the boys kept an allotment. He had obtained about half an acre of virgin grassland, and through a lot of back-breaking work, the allotment yielded fresh produce - however, Ron Hodgson has no idea whatever happened to the fruits of their labours! The digging was part of the war-time curriculum, and was classed as geography or nature studies - Ron remembers his aching back, but that they were great times, and fantastic memories.
But it wasn't just fresh vegetables that were being produced - one group of three entrepreneurs set up a small business, and bought 6 hens to produce eggs. A few other boys found part-time employment in the area as they grew older - for instance, Stan Walls recalls that some worked for a couple of weeks at the local Express Dairy, unloading the milk as it was brought from the farms and pouring it into the processing machines: "For schoolboys used only to pocket money, getting several notes in your hand at the end of the week was quite something".
Although walking and cycling inevitably became popular recreations, a number of clubs were formed, and these met weekly. The Games Club was for senior boys, and met on a Friday night from 6.45 to 8 - its activities were largely based on playing cards, with auction bridge catching on rapidly. The staff would also organise Whist and Beetle drives. But the main attraction was the "Cosy Cinema" on Boroughgate - with its wooden bench seats (3d a time) and its posher plush seats costing twice as much, it was a regular haunt for most of the town's war-time visitors.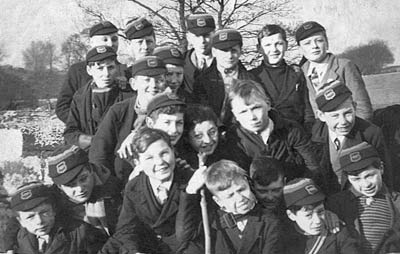 The picture on the right shows a "nature study class.
War-time in Appleby sounds almost idyllic, with the only evidence of the war being the rationing, the occasional movement of convoys through the town and, on one occasion, an air-raid in the middle of the night when a German plan jettisoned a bomb over the nearby fells to lighten the load for the return home. The Shields Boys got on well (some have said "very well indeed") with the local girls, but the same could not be said about the local lads - this led to the occasional skirmish, which on one occasion resulted in the local farm boys (heavily outnumbered) ending up in the river.
But in amongst the wonderful life there was also sadness - not just through "bad news from home", but also some boys failed to return to Appleby from visits to Shields. For Billy Rees, this was due to his being taken ill and spending a couple of years in the Ingham Infirmary - for others, it was simply that parents decided that they would be safe enough at home. But for all the boys who failed to return, and those who simply had grown old enough to leave school, fresh faces returned to Appleby.
When Billy Rees didn't return, Ron Hodgson's "foster" parents decided not to continue, and he was moved to Appleby Castle, where there was about a dozen boys. Ron shared a room with three others, Frank Stewart, Ralph Reed and Charlie Thompson. The diminishing number of evacuees also meant a reduction in the number of teachers, and eventually they were left with only four - there is little doubt that education suffered as a result. By the middle of 1943, most boys had returned to South Shields.