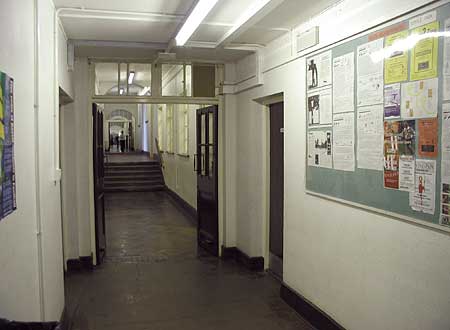 Back corridor, looking east from the gym end.
When the school was first built, this corridor had nothing either side of it. It simply led to the toilets, which were behind the camera. The gym (there was only one) was accessed directly from the corridor (just beyond the doors in the photo), and the room on the right just beyond the double-doores was the changing room.
During the 1954 rebuild, the rooms on the immediate right were built, and the area on the left was enclosed. The "gym corridor" (which is entered through the door just on the left of the photo), runs alongside what used to be the outside wall of the smaller gym (the once external windows are still there), and used to lead to changing rooms, the PE staff room and access to the larger gym.