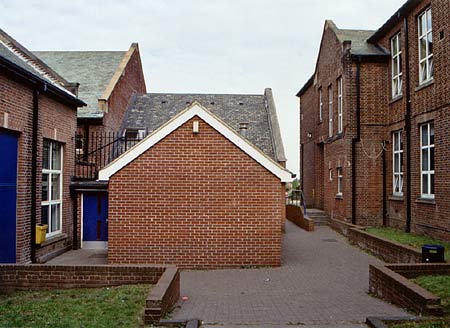 This is looking out from the back corridor's western entrance.
On the immediate left is the small gym, and far left is the large gym which was added in 1954.
Originally, this was simply a wide path leading to the road that ran across the front of the school, and was the seniors' entrance. At this time, the building on the left stopped at the end of the small gym, and what can be seen of the building on the right has remained unchanged (although the upstairs would have ended in a flat roof and greenhouse, just out to the right of the picture).
The 1954 rebuild saw the addition of the large gym, with the two gyms being connected through an equipment store room.
In later years two additional buildings were added. The far building is tacked on to the end of the large gym and provides additional changing tooms. The nearer building is a games store room. In addition, the steps from the entrance at the west end of the front corridor, on the far right, were improved, with the addition of a ramp.